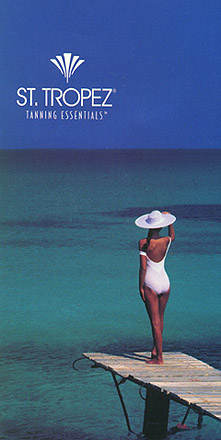 St Tropez Air Brush Tan and St Tropez Express Tan

The St Tropez air brush tan is a quick and easy way to achieve an instant tan.
With no harmful effects to damage your skin the St Tropez treatment takes 20 minutes  to apply and lasts 4-7 days.
The tan contains DHA'S which creates a chemical reaction that turns the skin brown. The tan has a guide colour which wash's off to reveal their final colour. Each tan works with your skin tone allowing for a different colour, mature skin will not hold a tan as well as younger oilier skin. Those who exercise regularly will not hold tan as long either due to the excessive sweating and showering.
Pre application advice

Before the treatment we advise all clients to exfoliate and moisturise the whole body the night before, paying special attention to elbows, knees, hands and feet as these are your driest area's. For best results use St Tropez body polish and moisturiser.
We also ask you not to wear any products on the skin deodorant, perfume make-up or moisturiser. If this is not possible then we have facilities so that you can remove it whilst here.
We advise you to wear loose black clothing after the treatment as the tan will rub off with tight clothing and shoes.
We also recommend not waxing or shaving 24 hours prior to the treatment as the tan could stick in the pores.
During the treatment we ask you to stand whilst we spray the whole of your body and face.
After care advice

The tan will start to develop after 2-3 hours and will continue to develop for up to 24hrs the longer you leave it on for the darker it becomes.Whilst the tan is developing do not take part in any activity that will make you sweat as this could ruin the end result.
To maintain your tan after showering, you should pat yourself dry, moisturise daily with St Tropez moisturiser and avoid exfoliating until your tan has begun to wear off naturally.
We also sell the bronzing mist in the salon for your home use to top up in between your treatments.