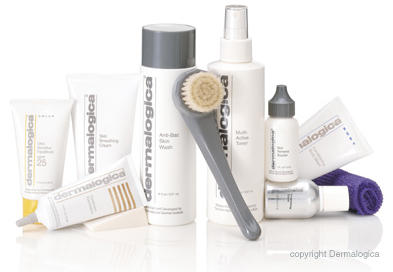 Ageing skin
Essential Cleanser - A creamy cleanser to nourish dry skin, while removing make up and debris. Uses natural safflower oil to soften skin without adding excess oil, and extracts of rosemary, lemon, hops and pine cone stimulates cell renewal and surface hydration.

Multi Active Toner - A spray conditioner for the skin to refresh and hydrate. Can be used throughout the day and applied over make up. Contains soothing aloe vera and extracts of lavender, balm mint and arnica to condition and protect the skin.

Skin prep Scrub - this product uses corn cob meal to exfoliate and polish away dulling dead skin cells, allowing new, fresh cells to regenerate.

Gentle Cream Exfoliant - this uses a five part exfoliating complex containing lactic acid to help loosen and detach dead skin cells and salicylic acid to speed up cell renewal. Sulphur aids in gentle skin peeling while papain and bromelain enzymes digest the detached cells. This with botanical extracts to soothe the skin, gently and effectively retexturizes the skin to increase hydration and smoothness, while helping to prevent clogged pores.

Multi Vitamin Power Recovery Masque - a powerful anti inflammatory masque of concentrated vitamins and botanicals to calm sensitive skin. Firming vitamin A increases elasticity and moisture content, Vitamin C aids in collagen synthesis restoring the skin's strength, Vitamin E and Pro vitamin B5 promote healthy tissue regeneration and botanical extracts soothe the skin, calm redness and inflammation.

Intensive Moisture Balance - an ultra rich moisturiser to firm and strengthen ultra dry skins. Using an exclusive blend of phytonutrients, anti oxidant vitamins and firming humectants it restores vital moisture and prevents free radical damage to gain optimum skin health.

Active Firming Booster - uses 70% active ingredient formula of organic silicones to provide dramatic firming results, extracts of mallow and arnica soften and soothe the skin, while hops, rosemary, pine cone and lemon help provide new radiance to skin. This deeply penetrating products also diminishes fine lines and revitalises tired, dull skin.

Multi Vitamin Power Concentrate - a unique treatment that delivers a concentrated dose of pure vitamins to help reduce the signs of pre mature ageing. Vitamin A increases elasticity and moisture content while firming and strengthening the skin. Vitamin C stimulates collagen synthesis to restore suppleness, while Vitamin E promotes healthy tissue regeneration and slows further cellular damage. Diminishes fine lines, wrinkles and age spots.

Multi Vitamin Power Firm for eye and lip area - Pure vitamins in a waterless base to accelerate the skins healing process, strengthening elasticity and improving smoothness. A healing shield of organic silicones helps prevent moisture loss and a calcified seaweed promotes a firming effect to the skin.
Skin Renewal Booster – an Alpha Hydroxy Acid complex of lactic acid, salicylic acid and pharmaceutical sulphur to micro foliate the skin helping to remove dead skin cells, revitalise the skin and minimise fine dry lines. Improves skin hydration and minimises breakouts.

Soothing Eye Makeup Remover - an alcohol free and oil free make up remover that effectively cleanses away all traces of eye and lip makeup without irritation. Protein silk amino acids strengthen and condition the delicate eye lid and lash area.

Total Eye Care SPA 15 - Alpha hydroxy acid smoothes and retexturizes dry skin around the eye while sodium PCA attracts moisture. Non irritating sun protection, anti inflammatory, helps to firm and reduce puffiness while optical light diffusers minimise dark circles.

Intensive Moisture Concentrate - uses natural organic silicones and hyaluronic acid to combat dryness, smooth fine lines, nourish and protect the skin. Increases moisturization by 130 %.

Specific Skin Concentrate - An oil free treatment gel that adds extra moisture without extra oil, the formula uses whole wheat proteins, algae extract and Sodium PCA to increase the moisture level of the daily moisturiser. It rehydrates even the dries of skins helping to minimise signs of dryness and stress.

Intensive Eye Repair - eye soothing botanicals with vitamin C help to maintain the skin's elasticity and texture, smoothes the appearance of dry lines and wrinkles. Replenishes lost moisture and protects against pre mature ageing.

Pigment Relief - An all natural lotion that helps to even out pigmentation caused nourishes and protects treated by sun damage, oral contraception and pregnancy. Active botanicals of yeast, lemon, lime, bearberry and liquorice combats uneven pigmentation. Alpha hydroxy Lactic acid helps to accelerate skin renewal while anti oxidant vitamin C areas.

Deluxe Facial Brush - An ultra soft bristle brush that deep cleanses and exfoliates dead surface cells. It is packaged with a protective cap to help keep the bristles in perfect condition.

The Sponge Cloth - this revolutionary fabrifoam cloth is gentle enough for even the most sensitive skin. Use with your Dermalogica cleanser to remove makeup and impurities without irritation. The sponge is bacteria resistant and is machine washable.