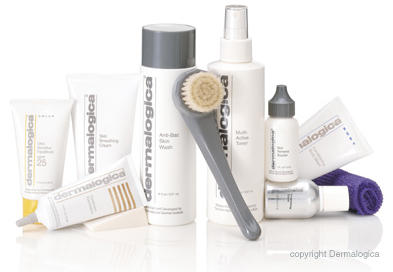 Oily/acne/congested skin
Anti Bac Skin Wash - Uses antibacterial Triclosan and Salicylic acid to help eliminate surface bacteria and prevent future breakouts. Contains balm mint,
coneflower and camphor to purify and soothe the skin.

Dermal Clay Cleanser - contains naturally absorbing bentonite and kaolin clays plus astringent plant extracts to cleanse and detoxify the skin while absorbing excess oils. Additional menthol cools the skin and reduces inflammation while soothing milk proteins calm irritated skin.

Skin Purifying Wipes - individually sealed wipes formulated with Triclosan to inhibit bacteria on the skin's surface and Salicylic acid to prevent future breakouts, can be used after cleansing or throughout the day to absorb excess oils and to purify the skin. Also contains soothing herbal extracts to calm the skin.

Gentle Cream Exfoliant - this uses a five part exfoliating complex containing lactic acid to help loosen and detach dead skin cells and salicylic acid to speed up cell renewal. Sulphur aids in gentle skin peeling while papain and bromelain enzymes digest the detached cells. This with botanical extracts to soothe the skin, gently and effectively retexturizes the skin to increase hydration and smoothness, while helping to prevent clogged pores that will lead to breakouts.

Oil Control Lotion - this feather light moisturiser uses micro sponges to absorb the skin excess oils, reducing shine and providing a matte finish. Active salicylic acid and willow bark extract help prevent future breakouts, while natural humectants help to hydrate dehydrated skin.

Active Moist - this oil free formula contains silk amino acids to moisturise and help condition skin. Herbal extracts protect against environmental dryness. Contains natural astringents of lemon, burdock, watercress and cucumber to help control oil production.

Skin Refining Masque - uses purifying kaolin and bentonite clays to absorb excess oils, soothing lappa and cucumber helps to calm irritated skin, while natural peppermint and zinc revitalise dull skin. This deep cleansing masque improves the skin appearance and texture, helps reduce oily breakouts, reduces inflammation and refines pores without the use of harsh irritating alcohol's.

Anti Bac Cooling Masque - this medicated masque uses dermalogica's alginated zinc triplex to fight bacteria, soothe inflamed skin and regulate sebum production. A blend of essential oils aids healing while salicylic acid prevents future breakouts. This masque immediately reduces redness and inflammation, reduces the discomfort of acne lesions while promoting skin healing and repair.

Gentle Soothing Booster - this oil free liquid contains 70% fruit and plant extracts, including red raspberry extract which soothes the skin and provides a natural antibiotic action. Cornflower and honey provide extra moisture binding protection to the skin. This formula naturally desensitises the skin making it ideal for acne prone and sensitive skins.

Special Clearing Booster - this highly active gel contains 5% benzoyal peroxide to neutralise bacteria in follicles, dries and clears acne breakouts and prevents future lesions from forming. Plant extracts of calendula, cornflower and matricaria soothes skin irritation and the discomfort of acne.

Medicated Clearing Gel - an overnight medicated treatment using alginated zinc triplex to fight bacteria, soothe inflamed skin and regulate sebum production. Exfoliating salicylic acid is delivered deep into the follicles to prevent future blemishes. Natural antiseptic tea tree oil aids in healing and soothing.

Skin Renewal Booster - an Alpha Hydroxy Acid complex of lactic acid, salicylic acid and pharmaceutical sulphur to micro foliate the skin helping to remove dead skin cells, revitalise the skin and minimise fine dry lines. Improves skin hydration and minimises breakouts.

Specific Skin Concentrate - An oil free treatment gel that adds extra moisture without extra oil, the formula uses whole wheat proteins, algae extract and Sodium PCA to increase the moisture level of the daily moisturiser. It rehydrates even the dries of skins helping to minimise signs of dryness and stress.

Soothing Eye Makeup Remover - an alcohol free and oil free make up remover that effectively cleanses away all traces of eye and lip makeup without irritation. Protein silk amino acids strengthen and condition the delicate eye lid and lash area.

Total Eye Care SPA 15 - Alpha hydroxy acid smoothes and retexturizes dry skin around the eye while sodium PCA attracts moisture. Non irritating sun protection, anti inflammatory, helps to firm and reduce puffiness while optical light diffusers minimise dark circles.

Pigment Relief - An all natural lotion that helps to even out pigmentation caused nourishes and protects treated by sun damage, oral contraception and pregnancy. Active botanicals of yeast, lemon, lime, Bearberry and liquorice combats uneven pigmentation. Alpha hydroxy Lactic acid helps to accelerate skin renewal while anti oxidant vitamin C areas.

Deluxe Facial Brush - An ultra soft bristle brush that deep cleanses and exfoliates dead surface cells. It is packaged with a protective cap to help keep the bristles in perfect condition.

The Sponge Cloth - this revolutionary fabrifoam cloth is gentle enough for even the most sensitive skin. Use with your Dermalogica cleanser to remove makeup and impurities without irritation. The sponge is bacteria resistant and is machine washable.