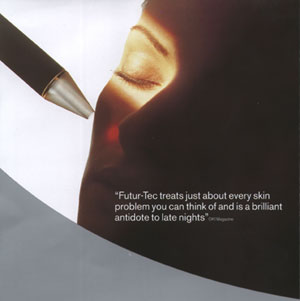 Futur-Tec : The skin regeneration system.
The Futur-Tec system effectively tackles harsh face and body imperfections, such as lines, wrinkles, cellulite, acne and scarring. The system combines the use of laser, micro current, ultrasound and vacuum to combat skin complaints and conditions.
The Anti Ageing Facial – this treatment uses laser, ultrasound, micro current and vacuum to achieve instant results. It stimulates the production of collagen and elastin, while softening deep lines and wrinkles. This treatment also exfoliates the skin with a peeling action, heals the skin, increases circulation and deeply moisturises.
The Deep Wrinkle Facial – this specialised treatment is used to target deep frown lines, nose to mouth line and harsh wrinkles. A non invasive alternate to collagen injections. Gives a youthful appearance by plumping out lines and wrinkles and removing dead skin cells.
The Acne/Blemish/Pigmentation Facial – this specially designed treatment is to encourage rapid healing and skin regeneration. It acts as a decongestant to problem skins. Using ultrasound to deep peel and laser to heal and repair tissue, blemishes are zapped.
The Cellulite Treatment – A relaxing massage treatment to stimulate lymphatic drainage and sluggish circulation. Combines vacuum and laser to eliminate toxins, breakdown fatty deposits and smooth unwanted dimples.
The Stretch Marks and Scar treatment – The definitive healing treatment using ultrasound to remove dead skin cells, laser to promote healing and micro current to smooth hardened scar tissue.
The Ageing Hands Treatment – this uses laser and ultrasound to fade pigmentation patches and liver spots and to smooth sun damaged/crepey skin.
The Back Congestion Treatment – This uses laser and ultrasound to deep cleanse, exfoliate, hydrate and heal to clear and aid spotty backs.